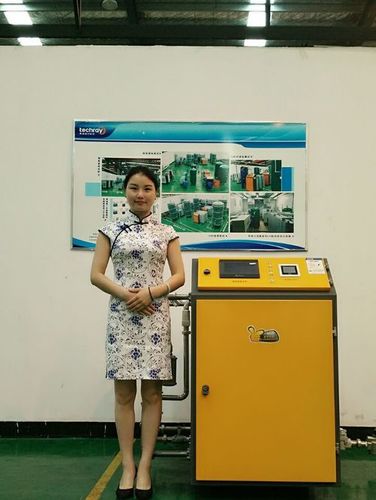 PSA oxygen gas plant in hospital
Product Code : MZ-30, 30m3/h
4000 - 80000
Price And Quantity
Minimum Order Quantity

:

1 set
Unit of Measure

:

set
Price Range

:

4000 - 80000
Product Specifications
Type

:

Oxygen Gas Plant
Material

:

Aluminum alloy
Computerized

:

Yes
Automatic Grade

:

Automatic
Control System

:

PLC Control
Purity(%)

:

93%+-3%
Color

:

Orange
Product Description
From our extensive range of mechanical products, we manufacture and supply supreme quality Portable Oxygen Gas Generator. For the fabrication of this generator, our adroit professionals use premium grade materials with the help of pioneering technology in sync with the set international standards. The generator provided by us is enormously used in places that have no connection to power grid and also in emergency power-supply if the grid fails. This Portable Oxygen Gas Generator is available with us in varied technical specifications in accordance to the application requirements of clients at reasonable rates.
Features:
Long service life with easy maintenance

Easy to operate and smooth in functioning

Equipped with sophisticated and automated techniques
PLANT DATA:

Production capacity: 1 to 200Nm³/H
Purity: 93+/-3%
Pressure: 0.25~0.5MPa
Brand Name: TECHRAY
Certification: ISO
Full Service Provided: Overseas service center available
Dew point: -45ºC - -60ºC
Working principle and process:

With air as material and molecular sieve as absorbent, TECHRAY's modular oxygen generator system is to adopt advanced PSA(Pressure Swing Adsorption) air separation technique to form a circulation process of absorption during compression and desorption during decompression so as to produce oxygen by separating oxygen and nitrogen in the air by using the physical property that under normal temperature and low pressure, so that the purity of oxygen is exceeded 93%+-3%v/v.

MATCHING COMPONENTS:

Modular oxygen generator
Launched new design of modular oxygen generator in the world with its advantage of preventing molecular sieve powder, precise control, high output and low consumption, convenient maintaining and repairing, low noise and no need certification of pressure vessel.

Air processor
Exclusively equipped a new components named AIR PROCESSOR, which can be solving the problems of removing water, oil and impurities, regulation of temperature and controlling gas supply. It also can be maken our whole system to work in the different enviromental, like as:

High-cold type of oxygen generation system
Highland type of oxygen generation system
High temperature and humidity type of oxygen generation system
High-salt type of oxygen generation system

Air compressor and Air dryer
Deeply Cooperated with the global top 500 companies--KOBELCO for air compressor and dryer customization. And equipped return temperature device in Dryer

Lithium molecular sieve
The particles are large and hard which is difficult to be pulverized, the adsorption capacity of nitrogen is 150% higher than that of traditional adsorbent and the separation coefficient of oxygen and nitrogen has increased from 3 times to 6 times.

PCL controller (SIMENS)
Programmable controller which is more precise, stable control and customized programming can control single, double or multi units

Optimal pneumatic shuttle valve
Adopted optimal pneumatic shuttle valve has advantages of small appearance, compact structure, high sensitivity, precise execution, rapid switching, top sealing performance and the life is more than 1 million times.

Oxygen analyzer
Adopted variable frequency ion flow oxygen analyzer with ion flow oxygen sensor. It has a high-performance ARM microprocessor, high purity measurement and high precision detection

Impedance compound silencer
The impedance compound silencer has the advantages of wide frequency band, wide application and 5-10 times noise reduction

Remote monitoring system
24 hours unguarded ¦ Human-computer interaction ¦ Alarm function ¦ Data monitoring ¦ Full network connection

PRODUCT SELECTION:
MODEL NO.
( TWIN TOWERS)

(M3/H)OXYGEN CAPACITY

SICKBEDS Q'TY(SHEET)

MODEL NO.
( INTELLIGENT MODULE)

(M3/H)OXYGEN CAPACITY

SICKBEDS Q'TY(SHEET)

TZ-03

3m3/h×2

100-150

MZ-03

3m3/h×2

100-150

TZ-05

5m3/h×2

150-250

MZ-05

5m3/h×2

150-250

TZ-08

8m3/h×2

250-300

MZ-08

8m3/h×2

250-300

TZ-10

10m3/h×2

300-400

MZ-10

10m3/h×2

300-400

TZ-12

12m3/h×2

400-450

MZ-12

12m3/h×2

400-450

TZ-15

15m3/h×2

450-550

MZ-15

15m3/h×2

450-550

TZ-20

20m3/h×2

550-650

MZ-20

20m3/h×2

550-650

TZ-25

25m3/h×2

650-750

MZ-25

25m3/h×2

650-750

TZ-30

30m3/h×2

750-850

MZ-30

30m3/h×2

750-850

TZ-35

35m3/h×2

850-1000

MZ-35

35m3/h×2

850-1000

TZ-40

40m3/h×2

1000-1200

MZ-40

40m3/h×2

1000-1200

TZ-45

45m3/h×2

1200-1300

MZ-45

45m3/h×2

1200-1300

TZ-50

50m3/h×2

1300-1500

MZ-50

50m3/h×2

1300-1500
Contact Us
1f-3F A1 Building, Lugu International Medical Equipment Industry Zone, No. 229, Guyuan Road, Changsha, Hunan, 410000, China